This started out as a second Beautiful in Pearls look, but I decided to jazz it up a little. It turned into what you see here. More pics and what I did after the break.
Here is what I did:
Face:
Smashbox foundation primer light
BE Honey Bisque
BE Med Beige matte/Med Dark reg foundation mix
BE Brightening Pearl mineral veil
Cheeks:
BE Precious Pearl blush
Eyes:
MAC Rubenesque paintpot
BE Blissful Pearl lash to brow
BE Magnificent Pearl lid and crease
MAC Plumage crease and outer V
MAC Greensmoke lid and inner V
MAC Humid outer lid
MAC Dreammaker under brow as a highlight
MAC Feline liner waterline
BE Flawless Definition mascara upper and lower lashes
Lips:
BE Sugared Strawberry 100% natural lipgloss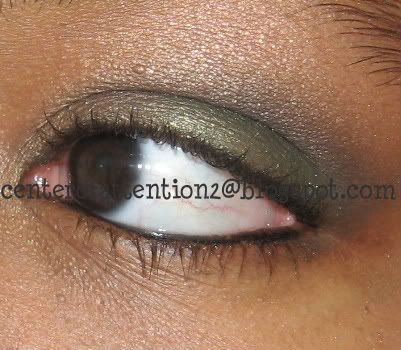 This product was purchased with my own money for my own personal usage. I am not affiliated with this company.