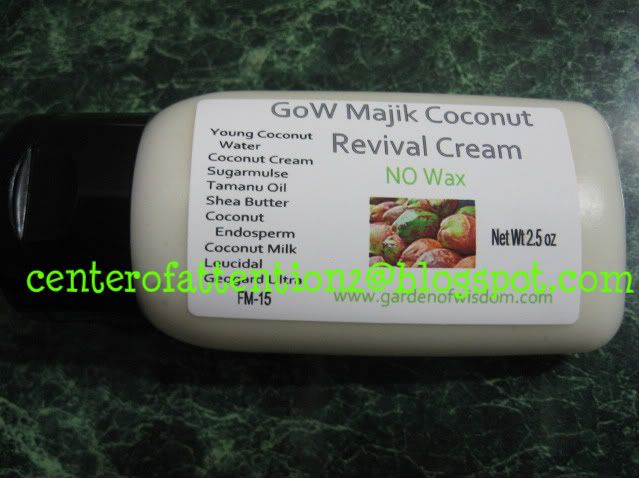 I have been putting off doing this review. I have very mixed emotions about this product. After reading about it and all of the great reviews on the Garden of Wisdom (GoW) site, I decided to give it a try. I used the
Coconut Revival Cream
as the last part of my GoW skin care regimen for acne/blemish prone skin. This product is NOT included in the
blemish prone skincare kit
, but many women have touted its ability to help manage/clear acne.
You can find my reviews of the items in this kit in other places on the blog. When I have finished all of my reviews, I will complile them in one place. My review after the break.
I am finally getting around to finishing up my CENTER OF ATTENTION series focusing on some of the skincare products from Garden of Wisdom. Sorry that it has taken me so long, but I have been really busy with work and life in general these past few weeks. So, here we go.
WHAT IT IS SUPPOSED TO DO:
Taken from the Garden of Wisdom website:
First off, the smell is just wonderful. I cant really describe it, but it is not the traditional coconut smell. It smells a lot like frosting...sweet, but no over powering. I have trouble with scents sometimes, but this does not bother me. After it soaks into the skin and dries, the smell disapates.
Here is where my mixed emotions come in. You are to apply a small pea to dime sized amount of this cream to the face as a moisturizer. I found that no matter how small an amount I used, my skin felt sticky. Especially when I used this at night. Hours after I had used this product, I found my face sticking to my pillow! I continued to use this because of all the good reviews and results I am supposed to be getting.
I used it for about a month, along with the products from the acne/blemish prone kit. I used it in place of the classic face cream that comes with the kit. My skin got better almost immediately, then just as quickly, started to break out even more. Eventually I came to the realization that my skin was not getting much better.
I went on the GoW forum and found that some women were complaning of white heads and this product breaking them out more. Mixed emotion #2. Was this purging? Just coincidence? Or, was this product doing more harm than good? I continued to use it. What about all of the reviews I had read? After all, I was supposed to be getting wonderful results...right?
I did not know what to do, but this was the only product that I bought from GoW that I had never used before. Maybe something in it did not agree with my skin? It smells so goooooooood though!
Finally, I could not take it anymore and so I decided to stop using the Coconut Revival Cream and see if that did any good. My face continued to breakout for another week or so, and then stopped. I still have some breakouts, but nothing like the craters of zit volcanos that I was dealing with before. Nothing like 14 cystic acne ulcers on one cheek to make you rethink using a product.
I have not used this product again, but I still have it. I cannot really be sure that it alone was doing harm to my skin. It could have just been my skin reacting to a new routine that could have caused purging.
FINAL THOUGHTS:
I may be crazy, but I think I may give this a try again in the next few months to see what happens.
If you use this product, let us know. I would love to hear how/if it is working for you.
This product was purchased with my own money for my own personal usage. I am not affiliated with this company.
"Blemishes no longer stand a chance!" is what our Coconut Revival Cream screams as it is applied to skin. Healing, gentle, and acne fighting, this cream has so much coconut power it can do no wrong. Perfect cream to "revive" your skin, and is gentle enough for all skin types.