See more pics, swatches and my review after the break...
This kit was released in 2009 I think for only $48. There are still some floating around on ebay. It is a great kit of 9 colors. These are mini jars, not the full-sized one. At the time of this release Mint and Dark Chocolate were the only "old" colors and the rest were new.
The colors included in the kit are: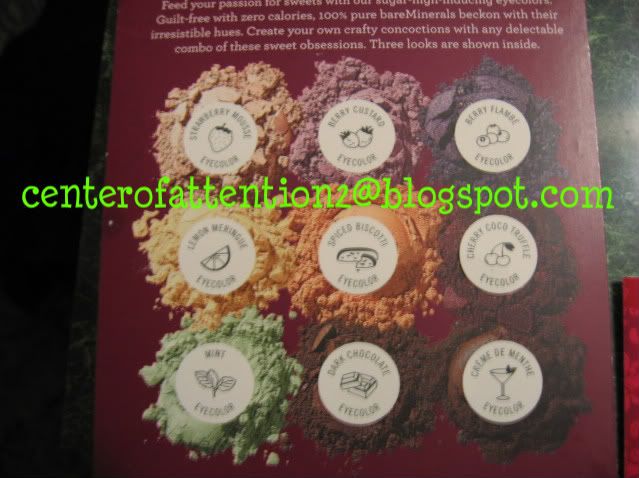 Here are my photos of the colors in the jars and some swatches.
Sorry that I only have pics of these three in the jars, my camera and purples dont go together. My swatches just werent coming out right.
Strawberry Mousse, Berry Custard, Berry Flambe
Strawberry Mousse is light pink with a touch of gold.
Berry Custard is mauve color with some red added.
Berry Flambe is a deep bluish purple with shimmer. Ths is supposed to be the liner color, but I dont like to wetline with it. It does not stay the deep purple color when wet. It gets lighter. I do like it as a crease color.

Lemon Meringue, Spiced Biscotti, Cherry Coco Truffle
Lemon Meringue is a soft pale yellow.
Spiced Biscotti is light pumpkin.
Cherry Coco Truffle is deep red-brown.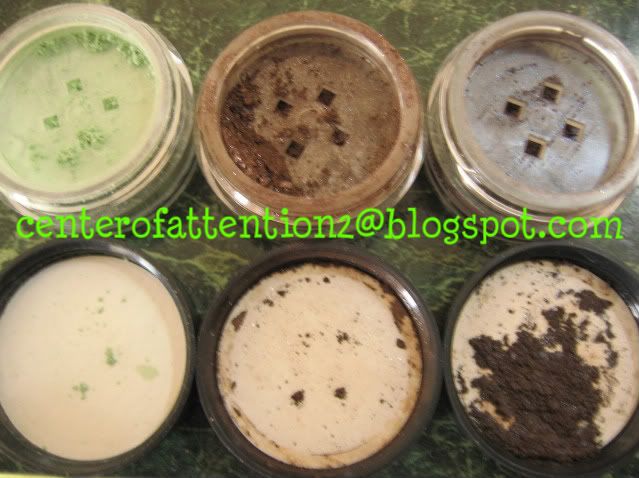 Mint, Dark Chocolate, Creme de Menthe
Mint is a light spearmint green. On my skintone, it just looked like chalk.
Dark Chocolate is just that, a dark chocolate brown.
Creme de menthe is a deep brown with blue-green sparkles. This is a great liner color. I usually wetline with this one.

I like most of the colors in this kit. The only one that really disappointed me was Mint.
This week I will show some looks that I created from this kit.
This product was purchased with my own money for my own personal usage. Reviews given are my own personal opinion and not influenced by anyone else. I am not affiliated with this company.