My CENTER OF ATTENTION series today is still focused on Garden of Wisdom products. Especially the products that come in the Blemish Prone Skincare Kit.
Today I am going to review the
Some Kinda Wonderful Detoxifying Serum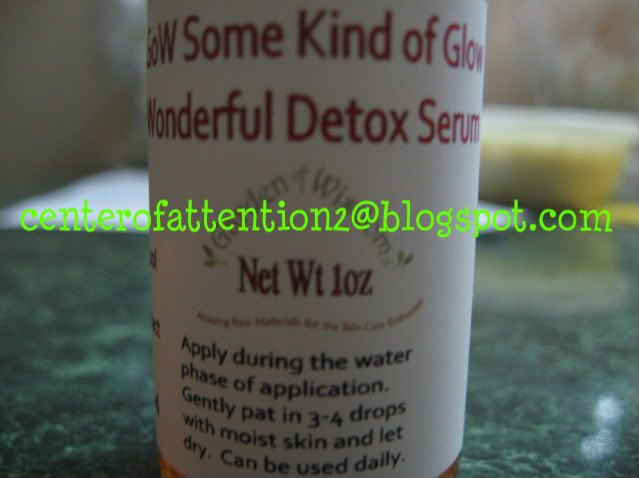 My review and pics of the products after the break...
I have to admit that I have no idea what this product does. What I do know is the results that I get from it.
Some Kinda Glow Wonderful Detoxifying Serum
contains 5 ingredients: Water, Spearmint Hydrosol, blood root, a thickener and a preservative. Good stuff! Spearmint hydrosol helps to control acne, stimulates the skin and exfoliates and the blood root detoxifies the skin.
The liquid is a reddish orange color and you only use a few drops of it at a time. It smells minty, but does not burn when you put it on. It soaks easily into the skin. I use this towards the end of my routine, after cleansing and exfoliating.
I am not sure how it all works together, but I have been complimented on my "glowing skin", so I guess it is working after all!
This product was purchased with my own money for my own personal usage. My review is my own opinion and not influenced by anyone else. I am not affiliated with this company.