This part of my CENTER OF ATTENTION series is focusing on the cleansers that are part of the
Blemish Prone Skin Care kit
. Yesterday I showed you the Cleansing pads and liquid. Today, I am going to focus on the Simply Clean Tea Tree Cleanser. More after the break...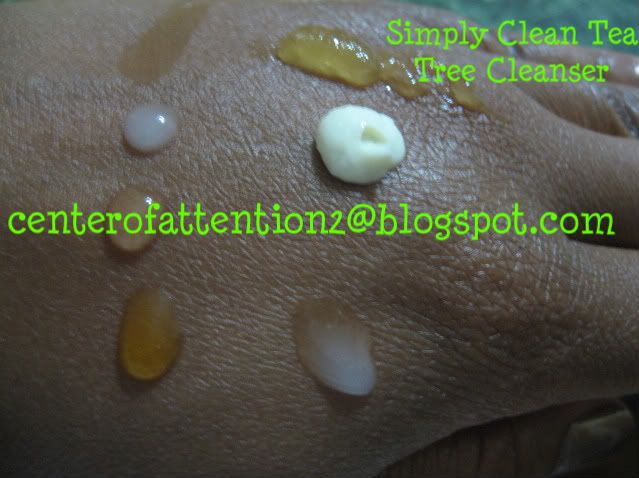 The cleanser comes out in a gel form. It does have a bit of a smell...I guess it must be the Tea Tree oil. I do not mind it though. I use this cleanser with a little bit of warm water, rub my hands together and apply to face. I wet my hands again and rub my face a second time to really help get the grime off. I let it sit for about a minute or two and then rinse off with warm water and a cloth.
INGREDIENTS:
This product contains a lot of wonderful ingredients that are great for oily and blemish-prone skin such as Manuka honey, neem oil and extract and tea tree oil.
WHAT IT IS SUPPOSED TO DO:
Taken from the Garden of Wisdom website:
"Our Simply Clean Tea Tree Cleanser is a concentrated blend of tea tree oil, neem oil, neem extract, and manuka honey, making it an antibacterial powerhouse. This cleanser aids in the control of whiteheads, blackheads, pimples, oil production, and heals skin at the same time. Simply Clean Tea Tree Cleanser detoxifies skin, moisturizes, yet doesn't compromise the mantle of the skin due to the fact that it is pH balanced. Great for Oily, Blemish Prone, Balanced, and most other skin types."
WHAT IT DOES:
I use this cleanser every evening. It is good for the removal of makeup. It does not make my skin feel dry or tight after using. My skin feels clean and there is no makeup residue left on my face. I do caution you not to get this into your eyes...found that out the hard way. In conjunction with the acne/blemish-prone regimen I have found that this really helps to keep my skin clean and my blemishes at bay.
This product was purchased with my own money for my own personal usage. The review given here is my own opinion and not influenced by anyone else. I am not afilliated with this company in any way.