I recently purchased this Try-me kit from
QVC
.

What the kit includes and my review...after the break!
This kit includes a 30-day supply of each of these items:
2 fluid oz Purifying Facial Cleanser
0.5 fluid oz Wrinkle Concentrate
1-fluid oz Extra-Firming Neck Cream
QVC price is $32.72.
Also included is a pamphlet telling about all of the products in the BE skincare line.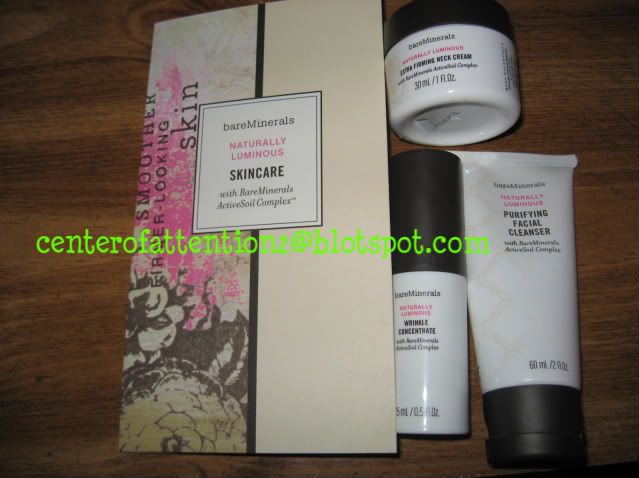 These items include Bare Escentuals Active Soil Complex (virgin soil) that is the star of their skincare line.
WHAT EACH PRODUCT IS AND WHAT IT IS SUPPOSED TO DO:
Purifying Facial Cleanser
was introduced early last year and has become a fan favorite. It is one of the items guaranteed to sell well whenever there is a BE show on the Q. I have gotten on the bandwagon with this product. It is supposed to gently remove makeup without drying out your skin and is good for all types of skin. It is supposed to be so gentle that it wont even burn your eyes. I know that at one time it was exclusive to QVC, but I am not sure about that now. It may be available at the boutiques as well.
Here
is the link to it on QVC.com.
Wrinkle Concentrate:
I have to admit that I didnt even know that BE had a wrinkle concentrate. I have not even tried it yet. Because of that I cannot offer a review of this product, but it is supposed to help deminish lines and wrinkles. This product also have the Active Soil Complex in it. It is exclusive to QVC until March 1st.
Here
is the link to it on QVC.com.
Extra-firming Neck Cream.
Also introduced last year, this cream is supposed to firm, smooth and hydrate the neck/decollete area. It is supposed to give your skin a luminous glow also. It is exclusive to QVC until October 14, 2012.
Here
is the link to it on QVC.com.
Look at the thickness of this neck cream.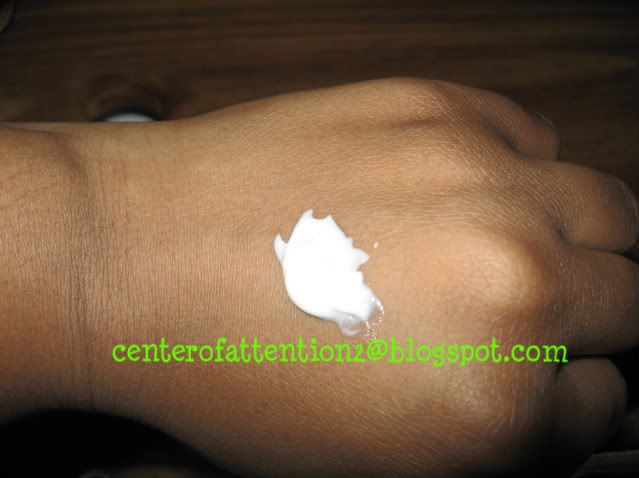 MY RECOMMENDATIONS:
I would definately repurchase full-sized Purifying Facial Cleanser and Extra-Firming Neck Cream. The Purifying Facial Cleanser removes my foundation and eye makeup (yes, even mascara) without doing any damage to my skin or eyes. Only one or two pumps are needed to get the entire face area clean. I have not had any burning of my eyes (unless I just down right poke a cleanser soaked finger in there). I dont feel any tightening of the skin afterward either. I do have to admit that when I first started using this cleanser, I broke out into small white bumps on my face, but that quickly went away. I have been using this cleanser ever since, and that has not happened again. I dont know if it was related to this cleanser, if my skin was purging since I had switched to a new product or if it was just coincidence.
After my first use of the Extra-Firming Neck Cream I knew I was going to like it. I feel that it has softened my neck/decollete area and my skin seems more hydrated. This cream is thick and creamy. It is a stiff cream (meaning it stands up and doesnt run) and it is easy to massage into the skin. It also leaves a slight glow to the skin. Not glittery at all, just seems like it brings out the luminosity of your skin. Even after using this for a month I can see a difference. This cream is very hydrating. It is not sticky either, so you can apply it and then put on your clothes. I apply it with upward strokes starting at the decollete area and upward to the neck and chin area.
I would recommend this kit as a great way to try out the Bare Escentuals skincare line.
I am not affiliated with this company. I bought this product with my own money for my own personal use.