L to R: Next to Nothing and Tempting
L to R: Sharp and Dark Edge
While my first love will always be Bare Escentuals, I do dabble in other makeup lines. This look that I did comes from MAC cosmetics. The Tempting Quad is just gorgeous. It is a palette made up of brown, gold, light pink and a green that is kinda scary at first, but looks beautiful on the eye. I had to add this palette to my collection. Swatches and my look after the break.
This quad came debuted in the Cult of Cherry collection a few years back. You can probably find this quad at the CCO (Cosmetics Company Outlet). The CCO is an outlet store for products sold under the Estee Lauder umbrella such as Bobbi Brown, Origins, Clinique; usually at about a 30% discount. It usually takes about 6 months for any collection to get from "available in stores" to CCO.
Here is what I did:
Too Faced Shadow Insurance lash to brow
Next to Nothing inner V and under brow as a highlight
Tempting on lid and outer crease
Sharp inner 1/3 lid and crease, blended into Tempting
Dark Edge outer V and blended into Tempting
Sharp patted on inner lid
Bare Escentuals Onyx drylined upper and lower lash lines
Maybelline Great Lash mascara upper lash line only.
Do not forget that you can click on the pictures to enlarge for better detail.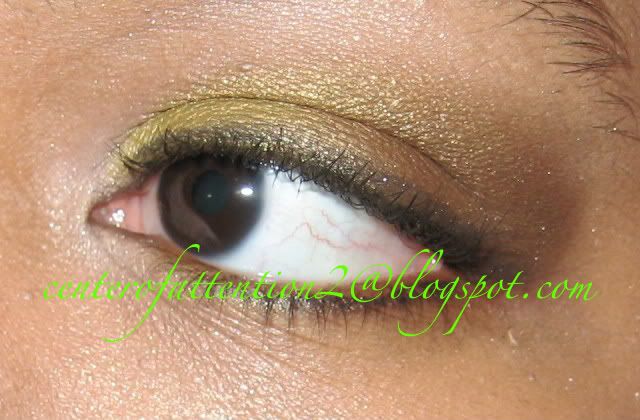 This product was purchased with my own money for my own personal usage. I am not affiliated with this company.