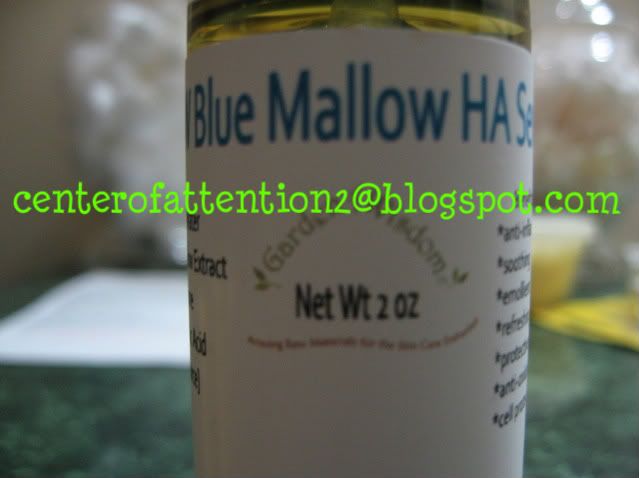 This serum is found in the
Blemish prone skincare kit
on the Garden of Wisdom website. This is a serum that hydrates and moisturizes your skin. Because of the nature of the hyaluronic acid, it can hold over 1,000 times its weight in water. It draws in moisture to help keep your skin hydrated. Notice hydrated does not mean oily or greasy. As a person with very very oily skin, I have not found that this product creates more oil or makes my skin appear more oily. More after the break...
My CENTER OF ATTENTION series focusing on the Garden of Wisdom blemish prone skincare kit will be finishing up soon. Sorry that it has taken me so long, but I am determined to finish it up in the coming days. Hope you will hang in there with me!
WHAT IT IS:
Taken from the Garden of Wisdom website:
More Information Regarding Hyaluronic Acid




Hyaluronic acid is a famous active, known for its ability to hold over 1,000 times its weight in water. This ability makes it one of the best hydrators a person could turn to. Hyaluronic acid also protects skin, while allowing it to breathe. It causes skin to appear more plump, fills in fine lines, and dries quickly without leaving a sticky film on skin.


INGREDIENTS:
Distilled water, blue mallow extract (which helps heal the skin), L-carnosine (protects and helps extend the life of cells), hyaluronic acid (hydrates the skin) and a preservative.

All this goodness in just 5 ingredients??!?! Believe it. I have been using it for quite some time, and have found that it helps my skin. It really works well with the other items in the blemish prone kit and on its own. With this serum you only need to use a few drops, a little goes a long way. Smell, I do notice a faint smell, but it is not a chemical smell. As soon as this serum dries, the smell goes away.

I make my own hyaluronic acid serums to cater to my skincare needs. I only buy the ones that I can not make. The other HA serum that I like besides the Blue Mallow HA serum is the Immortelle HA serum. I have a long list of others to try and/or make.

I did very extensive research the hyaluronic acid before purchasing this product because I had never heard of it before. I suggest you do the same if you have never heard of it and do not know its properties. The Garden of Wisdom website and forum have great information and more extenisve reviews from real people. You might want to start there.


This product was purchased with my own money for my own personal usage. I am not affiliated with this company.