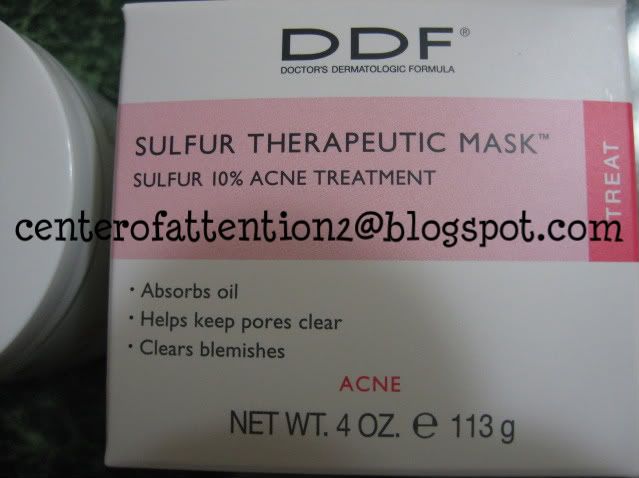 I was turned on to this sulfur mask by some of the ladies on a forum that I frequent. It is one of the best discoveries that I have made. My skin really responds to this. More pics and my review after the break...
The DDF (Doctors Dermetologic Formula) sulfur treatment mask is a clay mask that can be used in the traditional way as a mask or to spot treat any acne flareups that you may have.
Here is the 411 straight from the Sephora website.
Sulfur Therapeutic Mask
What it is:
A clarifying treatment armed with the antiseptic properties of eucalyptus, the anti-inflammatory properties of aloe, and the absorbent power of purified clays.

What it is formulated to do:
Banish excess oil, minimize pores, and help prevent and heal blemishes with this weekly-use mask. It is an excellent solution for breakouts on the chest, back, and face, and multitasks as an overnight spot treatment. The potent blend of sulfur, eucalyptus oil, aloe vera gel, and bentonite and kaolin clays works to unclog pores, promote clarity, and regulate oiliness.
INGREDIENTS:
Water, Bentonite, Propylene Glycol, Talc, Kaolin, Titanium Dioxide, PVP, Diazolidinyl Urea, Glycerin, Fragrance, Methylparaben, Aloe Barbadensis Leaf Extract, Sodium PCA, Allantoin, Propylparaben, Prunus Amygdalus Dulcis (Sweet Almond) Oil, Benzyl Alcohol.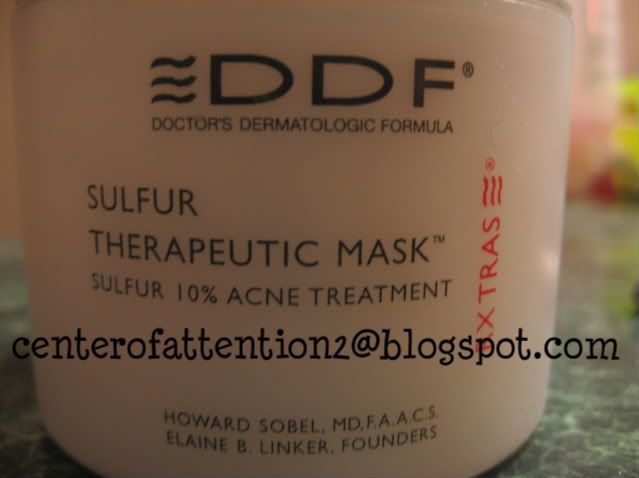 I think that this product does what it says it will. I have very very oily skin, so the clays in this mask help emensly with that issue. I use this product twice a week in conjunction with the Garden of Wisdom (GoW) regimen. My GoW regimen calls for a sulfur mask, but my skin did not respond well to the one sold on the GoW site. I found that my skin liked and did better with the DDF mask, so I use that in place of the one that comes with the Blemish/Acne Prone skincare kit. I find that this product helps draw out impurities in my skin, softens my skin and helps control the oiliness.
Since I am doing the GoW regiment I use this product as a mask, but in the past I have routinely used it as a spot treatment and had great results.
This product comes in a 4 ounce jar. You may think that is small, I did at first, but a little bit goes a long way. I dare say this product will last the whole year.

Just look at all of that creamy goodness!!!
This mask does have a sulfur smell, but it is not that bad in my opinion and disapates after the mask has dried. Once you rinse your face completely, the smell is gone. Personally, for the way that it helps my skin, I can deal with the smell.
I use this mask twice a week using a very thin layer each time and letting dry for 15 to 30 minutes, depending on what I am doing. Going on, the mask feels tingly, but that stops while the mask is drying. It really draws your skin tight. I cannot even smile when I am wearing this! I like that because it lets me know that it is getting the gunk from way deep down inside my pores.
After having been rinsed off, this mask leaves your skin feeling soft insead of dry and flaky. After using this mask I spray a hydrosol onto my face to keep it hydrated.
I would highly recommend this for anyone who has very oily, acne prone skin. If you want to sample it before buying, try going to the your local Sephora store and asking.
If you do use this product or have just gotten a sample of it, let us know how you like it. I love to read product reviews.
This product was purchased with my own money for my own personal usage. I am not affiliated with either of these companies.